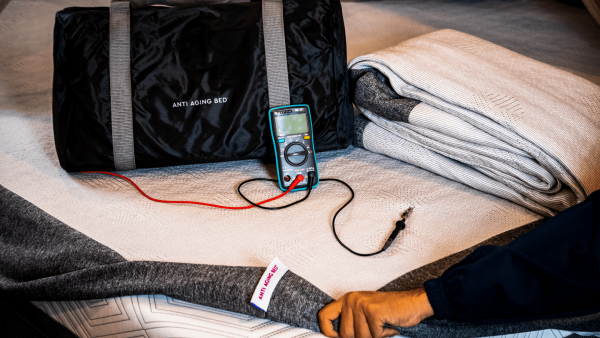 Roll over image to zoom in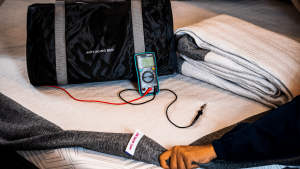 Anti Aging Bed
Baxter Biohealth dba Anti Aging Bed
Neutralizes damage on a cellular level through electron donation negative ion information age technology. Reducing Oxidative Stress by repairing your free radical damage statically. Assisting the human body in the form of accelerated repair and regeneration. Stay within 1" of the top mattress cover. Clinical studies and cited reports include increasing blood viscosity and massively reducing inflammation. The core technology of the Anti Oxidant Bed.
Far Infrared is a well documented superior technology used in our health care industry. Within minutes your own body heat will reflect gentle penetrating waves of beneficial Far Infrared. Want to feel great after an amazing night of sleep? The Proven NanoBionic Technology to enhance faster recovery, increase in general wellness, promotes a restful night sleep, and give temporary increase in local blood flow all while in contact with the bed. Combining all core technologies available creates the technology found in the Anti Aging Bed models.
Every Anti Aging Bed model comes with this feature, the ability to shield yourself from harmful or unwanted emf, wifi, cell tower or 5G. Electromagnetic frequency can cause distortions in both health and a good night sleep. You are shielded from these types of radiation as long as you are not holding a wireless device such as an ipad or cell phone. Connecting and grounding you to nature. Standard feature!
Acts as the silver bullet to our sleep system. Expensive but worth the benefits. Many well documented clinical trials prove that silver is anti bacterial, anti microbial, anti odor, and anti virus. Silver ions give microbes and viruses a mechanical death due to it's sheer ionic protective strength. In hospitals today, silver used in clothing, bandages to treat burn victims, destroy pathogenic microbes, and combat dangerous viruses. The most powerful conductive mattress every made.
Our Ion Mound Resistor regulates the constant flow of negatively charged electrons and ions onto the bed. Removes the unwanted free radicals or static charge from the body. The Mound Resistor is a safety regulator between you and the ground. Must be plugged in to connect.
Body heat is spread to other areas of the mattress for heat dissipation. One of the amazing benefits and additional features of our Silver Nano Technology.
Patents:
- 9,332,855 B2 US APPROVED
- 9,691,516 B2 US APPROVED
Subscribe to BiohackingCongress Newsletter and GET 20%OFF!
Log in for More Info
Join our Community
Get the latest news about the Biohacking world, discounts, and more