Innovations and Investment Opportunities in LongevityTech and HealthTech Industries
We here at BiohackingCongress believe that one of the biggest investment opportunities over the next decade will be in companies working to promote longevity and those which are focusing on improving health spans, enabling humanity to live free of disease, rather than living forever.
According to Bank of America analysts, this market is expected to be worth at least $600 billion by 2025. Total health innovation funding for the first half of 2020 hit $9.1B, up nearly 19% compared to the same period in 2019, source: StartUp Health Insights.
One of the purposes of the Unicorn Lab is to promote beneficial cooperation between investors and entrepreneurs. At our last Virtual Invest Meetup we were very honored to have so many promising Startups from #BioTech and #HealthTech industries that made VCs and CVCs excited.
The Meetup began with the Panel Discussion on the topic: "Innovations in LongevityTech, HealthTech, and BioTech Industries. Opportunities for Investment". Experienced investors described from their perspectives what trends in HealthTech and LongevityTech they consider the best to invest in. ⠀
The Panelists:
- Max Zamkow, Partner, Third Act Ventures;
- Adam Dakin, Managing Director, Dreamit Ventures;
- Meghan Cross, Partner, Amplifier Ventures;
- Guenther Brueggenwerth, LifeHub UK Lead Radiology, Bayer AG;
- Kate Batz, Managing Partner, Longevity Capital.
Moderator: JuliaSmila, Co-Founder & CEO, Unicorn Lab.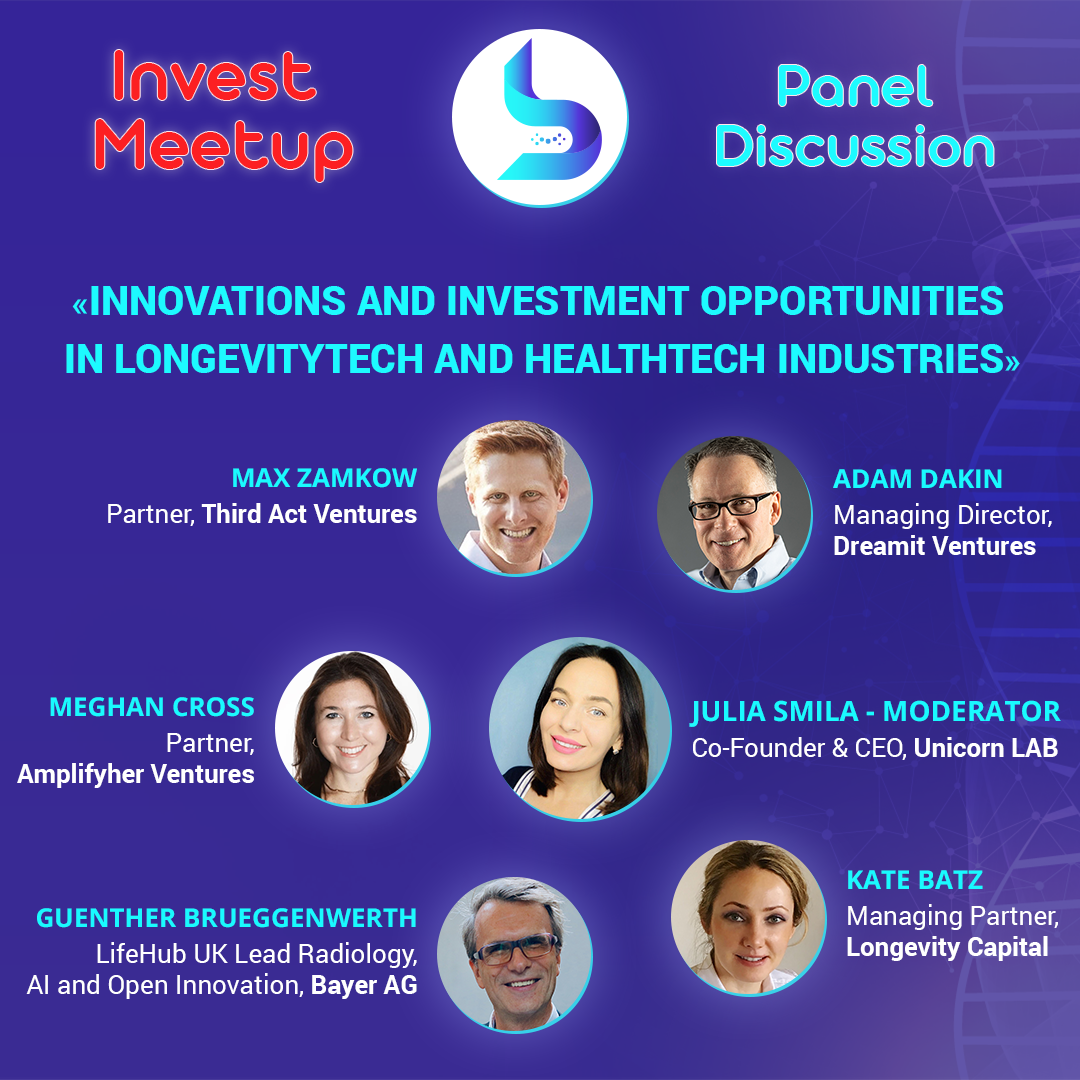 Please find our conclusions below:
What are the latest technologies and solutions enabling longevity and high quality of life?
According to experts, there are many technologies and platforms available right now that allow for a higher quality of aging in place extending the quality of life for everyone including our older generations. The rapid development of software made for in-home technologies are on the rise, whose function is to monitor the health and physiological status of a patient with the capabilities to alert family members and providers when the patient is decompensating and requires immediate medical assistance. Early intervention and preventative care are the focus for these technologies, to allow solutions to be implemented before it's too late to react. However, the dilemma that arises from these technologies is cost and affordability. Many of these technologies are very expensive, requiring thousands of dollars worth of equipment, monthly maintenance, and installation costs, affecting its market to only those who can afford such prices and drastically decreases its appeal.
Virtual care, telemedicine, and remote patient monitoring is the latest area of innovations allowing health care agencies to provide higher levels of care and rapid response to ensure their clients are living healthy lives without individual in-person doctor to patient care. The emphasis for innovators is to extend patients healthspan, rather than lifespan, because the duration of how long you are living healthily is more important than the duration you live. Living a healthy life takes precedence over living a life of pain and suffering.
How has COVID-19 changed research and capital flow in epidemiology and virology? And in health care?
Since the beginning of COVID-19, there have been dramatic shifts toward telemedicine and remote care, while science has put an emphasis on advanced disease monitoring and preventative care. The pandemic has knocked down the barriers previously placed, allowing doctors to be paid to practice telehealth and allowing doctors to practice all of the country, no longer burdened by state border regulations. Telehealth has made doctor care more accessible, bringing care and expertise to patients homes allowing for more comfortable atmospheres. Before the pandemic began, there was little concern on the importance of human health, but now we see investors refunneling their investments to healthcare startups and technologies understanding the importance behind advanced healthcare technology, enhanced immunity, longevity, preventative care, and more. This area of heightened interest will result in a plethora of funds being funneled toward this industry-changing biotechnology and giving them the necessary resources they require to prevent a pandemic from affecting our economy and people again.
In addition, the pandemic has had a profound influence in the country's research and development sector of many companies. There is a definite expedited sense of urgency and more and more resources being placed into these sectors to develop new ideas and produce tangible products. Through the need for everyone to be remote over the past few months, there has been a greater focus on connectivity and the spread of ideas while remaining to bring care providers to people together in more seamless ways. The working methods of people have shifted to capture the changes the pandemic has had. While everyone is sitting in the comforts of their home, it increases the availability and reachability for people all over the world to share their ideas, no longer burdened by the need to meet in person or work according to people's schedules inciting quicker results and more efficient workflow. In this time of need, everyone's goal is the same: fighting COVID-19. It is a global alignment of goals, everyone constantly working towards success and healing the world of this devastation it has caused.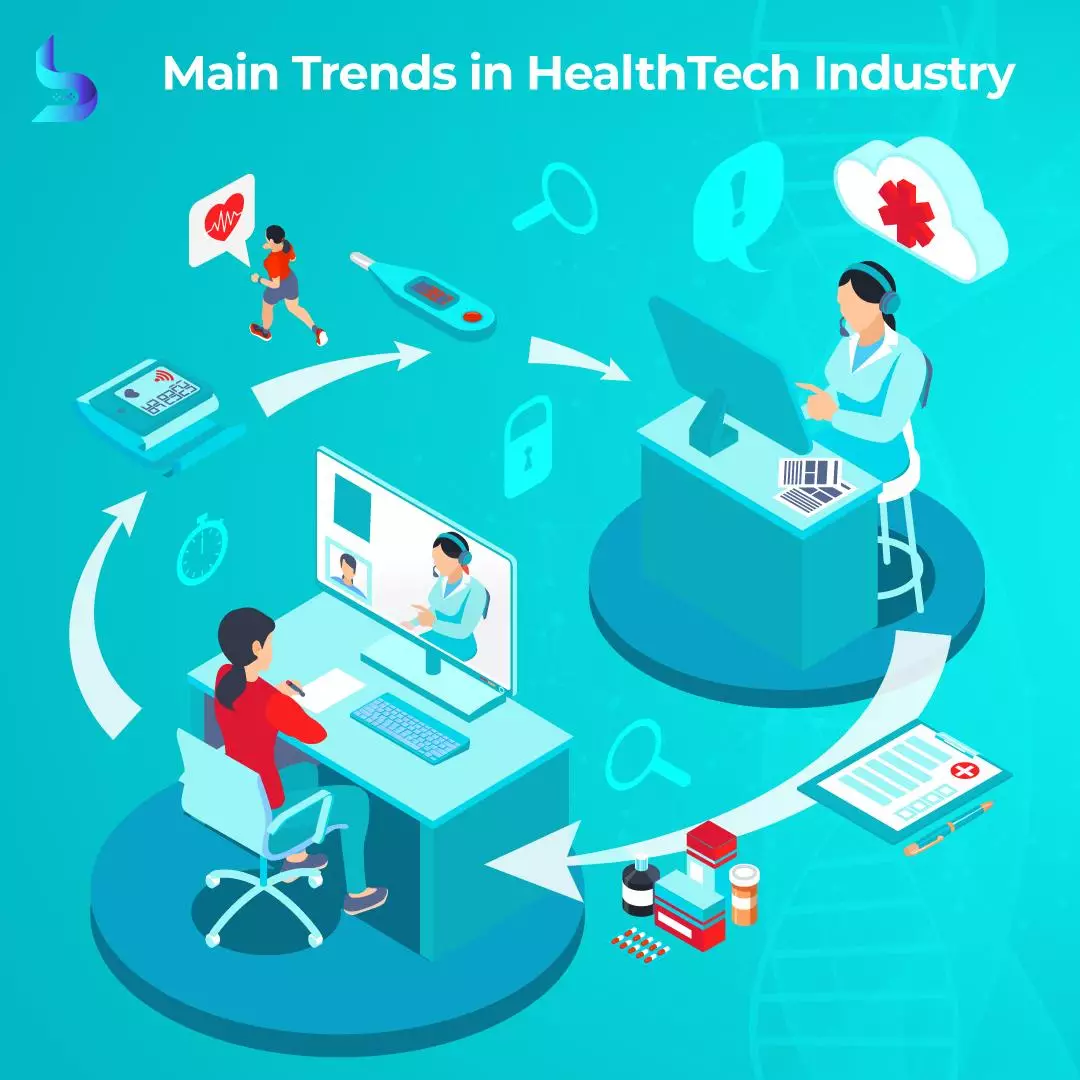 What are the key trends you see in digital health, longevity technology, and biotechnology to invest in?
The future of telemedicine and remote patient monitoring has come a long way but needs more funding and improvements to impact the lives of patients everywhere around the world. Telehealth is becoming more commoditized, and the goal, in the end, is to make the process of telemedicine become integrated into people's daily lives, affecting their daily routines and potentially becoming more dependent on these resources to stay healthy.
The pandemic has made it abundantly clear that there are not enough health care workers to provide the care the world needs during a time like this. While there are no definite solutions, finding the personnel to train as health care workers, increasing wages, finding ways to make workers feel more appreciated or provide better training and protection to fill in empty shifts and keeping essential hospitals and clinics open are all potential starting points in solving this problem. Anything that has the potential to make a dent in the healthcare industry staffing problems is all key trends that investors should look into for the purpose of improving healthcare response.
A big thank you to Julia Smila, Co-Founder Unicorn Lab, for moderating the discussion, and another big thank you to our panelists for a smooth and informative discussion, and enlightening our audience with your wonderful insights and ideas to fuel the future of this industry. We wish you all the best in your future endeavors and can't wait to see what amazing things you do for the world.
Watch the full video of Virtual Meetup by BiohackingCongress on our Youtube channel.
Enjoy and Subscribe.
Join our community and attend our next events.
We are looking forward to meeting you!
Join our Community
Get the latest news about the Biohacking world, discounts, and more