Discussion about Innovation in HealthTech and BioTech Industries
Wednesday 13, 2020 - BiohackingCongress Virtual Meetup united leading VCs and outstanding entrepreneurs in Panel Discussion on the topic: "Innovations in HealthTech and BioTech industries; Opportunities for Investment."
BiohackingCongress Virtual Meetup is a networking event for Entrepreneurs, Investors, and Experts from Biohacking, Digital Health, BioTech, HealthTech, and Health Industries. It is the right place to meet potential Investors and Partners, and develop business development opportunities.
The Meetup started with the Panel Discussion on the topic "Innovations in HealthTech and BioTech Industries. Opportunities for Investment". Experienced and renowned Venture Capital Investors and Entrepreneurs described the topic from their perspectives.
The Moderator of the Discussion was Scott Amyx, Venture Partner at Loyal VC, Amyx Ventures, TEDxWallStreet, Forbes Innovation Columnist, VC Judge at SXSW & Singularity U.
Speakers were:
- Bill Liao, a General Partner at SOSV.
- Nick Adams, the co-founder and Managing Partner of Differential Ventures.
- Bob Troia, a Founder of OPTML.
- Jo Bhakdi, a founder and CEO of Quantgene.
- David Cao, Founder & CEO at F50, Managing Partner at F50 Ventures & F50 Elevate.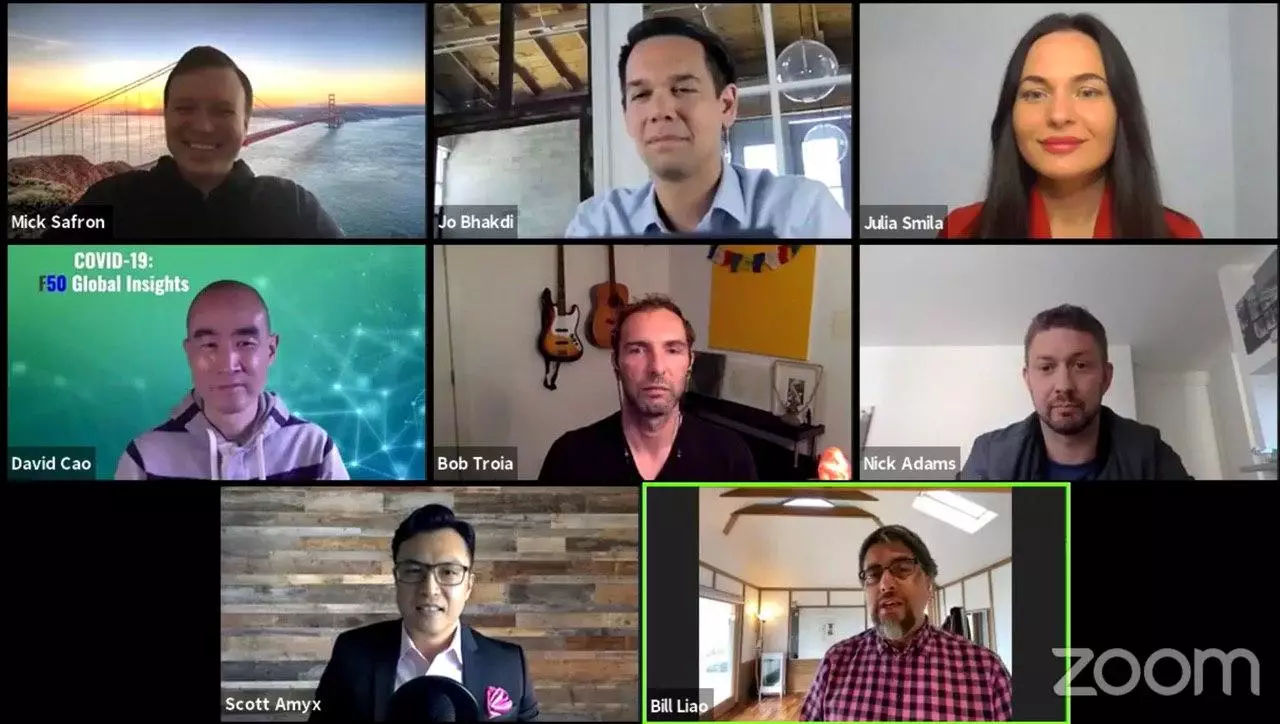 Scott Amyx asked Bill Liao, General Partner at SOSV, about his company's focus on selecting companies, especially BioTech ones.
Noting that SOSV is "The Accelerator VC"​ with $700M+ in assets running the world's leading accelerator programs in hardware (HAX), life sciences (IndieBio), cross-border internet/mobile in Asia (Chinaccelerator/MOX), food (Food-X), and blockchain (dlab).
Bill explained, "Our focus is on amazing teams that are getting the tech and the timing right. The biotech angle is quite broad now and has similar problems, the general rules of VC still apply; if the team doesn't work, forget the product. If the product doesn't work, that could be fixed, if the timing is terrible, it's not going to work out. You got to figure out all those three T's, and that's where your focus lies. Now putting that in context of biotech and deep tech that assisted us in bringing in the right mentors, the right investors, so those companies can continue to get funded. That success goes on into multiple rounds, but if you look at the technology, for instance, you've got to make really bad choices."
Mentioning that their acceleration programs receive 5,000 applicants annually for only 150 spots, and it is looking encouraging due to the fact Liao clarifying "We [SOSV] are kind of a unicorn stud and we get the unicorns to race around a track for three months in our accelerators and then we get lots of people a bit the winning bid, the winners."
The most active worldwide investors in angel and seed-stage deals: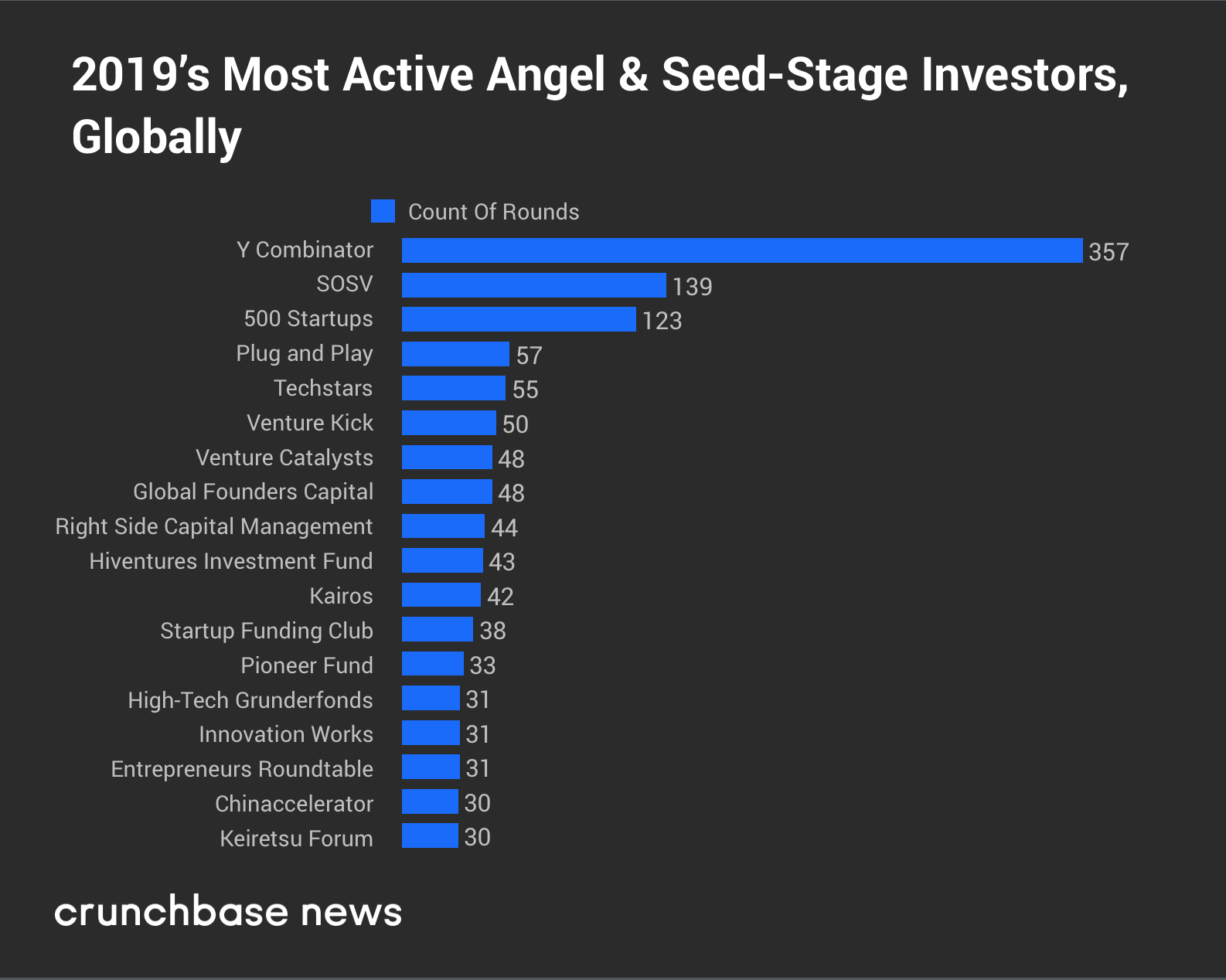 Credit: Crunchbase. The Q4/EOY 2019 Global VC Report: A Strong End To A Good, But Not Fantastic, Year.
Proceeding the topic, Amyx asked the question of how exponential technology, whether it's ML, DL, CRISPR enabling R&D, and advancement that was not possible even 10 years ago?
Jo Bhakdi - Founder and CEO of Quantgene, a Biotechnology company that engineers exceptional scientific and technological innovations that unlock the Deep Human Genome by investigating every single copy of cell-free DNA in a blood sample - answered.
"We are living in a time where these things come together and there's an exponential or a squared function of these multiple technologies from AI and ML, the actual algorithmic advancements to very big data. For example, the sources of that big data sequencing what advanced imaging, to software and the internet, which is a little underrated because we got used to it. There are also tremendous things happening in interconnectivity and access to knowledge."
Bhakdi underpinned "To give you an example, when we [Quantgene] ended up, parts of our businesses. Cancer detection through cell-free DNA. When we look at the blood sample, we are now able to look at the sequence so deep that we can look at every individual copy of cell-free DNA in a sample. That allows us to give you an idea of a sequence at a hundred thousand X steps that we are looking at each location. Even five years ago, that would have been completely delusional and would have cost you $2 million per sample. We are now at $600 per sample."
"Everything we do in the cancer detection space, every single component would probably not have been possible even in 2015 and I think the big message here is not just in our specific cancer detection space, but in biotech and advanced health care in general, that you're living in an unprecedented time in terms of the pace of innovation. Also, especially from an investor point of view, things can become possible in 2021 or 2022 now and so time that you really have to be on top of technology, find the best entrepreneurs or become one. The teams and the ability to pivot fast and really develop deep tech at a vastly higher pace of innovation then 10 years ago is the key to building great companies in biotech and healthcare," Jo explained.
The Promise of Deep Technology: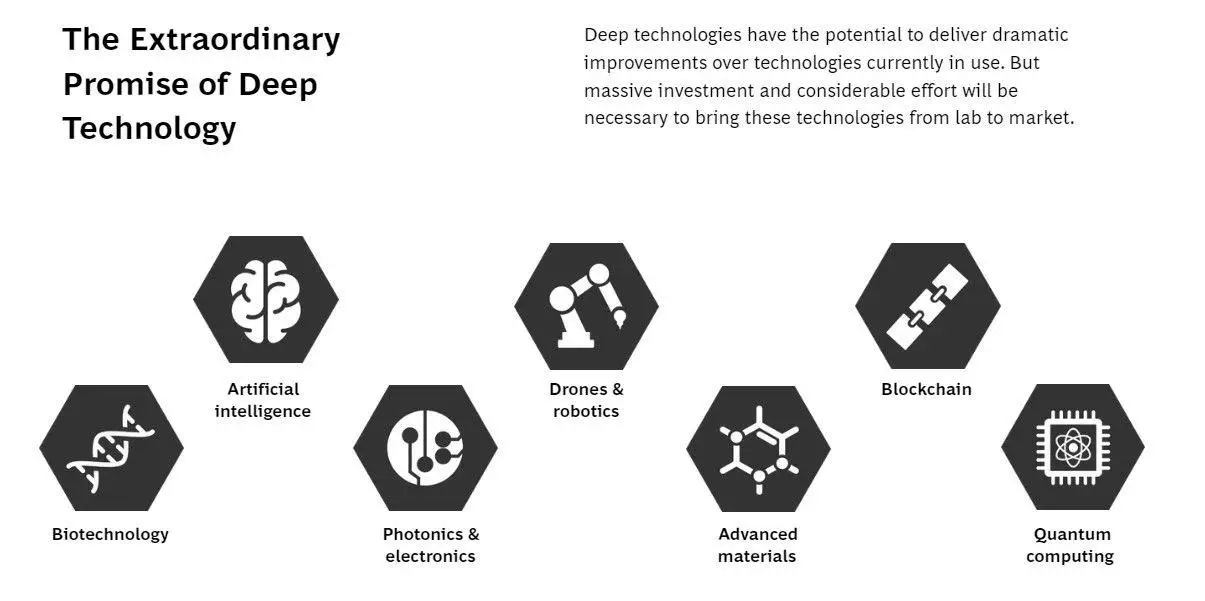 Credit: Boston Consulting Group. The Extraordinary Promise of Deep Technology.
The clarifying was mentioned but what are the latest trends as well as the possibilities that are enabling longevity and higher quality of life?
Nick, Co-founder and Managing Partner at Differential Ventures, a seed-stage fund adjusted on data-focused entrepreneurs, clarified that they broke down the trends into a couple of different categories. One is dedicated to big data: collection, cleaning, and analyzing all the massive amounts of data as well as big algorithms of it. "From a healthcare perspective," Nick mentioned, "I think the US and parts of the Western world, in particular, are powerful in reactive medicine, but not always as good in preventative care. I think it will become much more pervasive in our culture and our healthcare system."
"From the VC perspective," Adams continued, "the data can help diagnose better, faster, more accurately, treat in the same way. We just ran a grant program for COVID - 19 companies to how can we quickly get to a treatment for this, which will probably come, potentially, faster, than a vaccine will. But then also drug discovery, clinical trials. And then just the efficiency." Additionally, Nick noticed that they see huge advances in AI, machine learning, and data.
David Cao supplemented the topic of longevity. He is a Founder & CEO at F50, Managing Partner at F50 Ventures & F50 Elevate, and Partner at Hunniwell Lake Ventures where investing exclusively in Medical Devices.
David shared the result of his small poll about living a long life: "Last year I asked my daughter, what if you could live 150 years, and she said no due to the senior house, sick... Then I asked a couple of my friends, nobody wants to live longer than a hundred years in leaving these unhealthy conditions." Cao mentioned that in longevity, people expect a healthier quality of lives, and he uses offensive technology to do longevity.
Withal, David clarified that a great number of investments are made in the treatment of diseases but there is an option to stay healthy: change the lifestyle. "For instance," David explained, "most people do not realize that sleeping actually is changing people's life span, a house and a barrier to work significantly. 10 times out, most people had ever imagined. Lots of technologies can be used to improve people's lives and digest people's happiness so they can live longer. I think this area is significantly under-invested."
Continuing with longevity and taking into account further aspects, Scott Amyx expressed the curiosity to know how some of these things are producing the kind of biological signals to repair certain cell damage.
Bob Troia, Founder at OPTML, a Data-driven human optimization company, remarked, "From a wellness perspective, if you think about how you want to train efficiently, have more free up, more time in your day. On the recovery side, I think as you get older, especially we talk about longevity while it's as much about recovery as it is about exercising all the time because if you're just beaten down and broken down, you need to get yourself built back up."
The growing expectation of HealthTech market: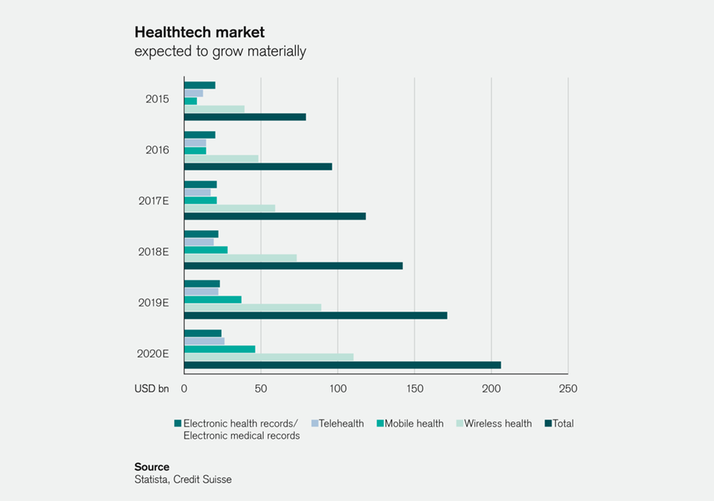 Credit: Credit Suisse. Long-Term Investment Supertrends: The Potential of HealthTech.
Troia also has a website where he shares his tips and tricks on personal optimization through science, technology, experimentation, and data.
In summing up Bob clarified "We could spend hours talking through the science of how those things work. I think the bigger point to really talk about here is we've got these technologies and tools and some of these are not cutting edge from the standpoint of science goes back to like the sixties and the fifties and the forties and stuff that was very fringy back then. Now there's data to validate what these things are doing."
Talking about data, Jo Bhakdi mentioned, "I think for us [Quantgene] it's obvious in medical terms, data, deep genomics and all kinds of data is the most valuable data ever. It can save other people's lives at the same time, it's also the most valuable to the patient."
The full 1-hour video of the Panel Discussion and following 1-hour Pitch Session of HealthTech Startups commented by VCs are available on BiohackingCongress YouTube channel. Watch and subscribe!
Join our Community
Get the latest news about the Biohacking world, discounts, and more