Panel Discussion: Impact Investment in Innovation Startups working to promote Longevity and Health Spans by Unicorn Lab
Unicorn Lab is a Silicon Valley-based consultancy company dedicated to promote beneficial cooperation between entrepreneurs and investors from the LongevityTech, HealthTech Industry. The massive and wide-ranging investments are made towards the development of wholesome, life extension ideologies, as well as anti-aging technologies. To stay updated on the latest news and trends Unicorn Lab conducts Meetups for selected startups and top-tier VCs from the industry.
The Panel Discussion at the latest Meetup addressed the topic: Impact Investment in Innovation Startups working to promote Longevity and Health Spans.
The following experienced investors were the panelists: Kate Batz, Managing Partner, Longevity Capital; Safa Rashtchy, Founder and Managing Partner, Think + Ventures; Lu Zhang, Founder & Managing Partner, Fusion Fund; Po Bronson, Managing Director, IndieBio; Brian Mac Mahon, Founder, Expert DOJO.
Moderated by Julia Smila, Co-Founder of Unicorn Lab & BiohackingCongress.
Julia Smila: What is the driving force behind VCs for Impact investment in HealthTech, Wellness, and LongevityTech industries?
Impact Investing is strongly connected to the Sustainable Development Goals. Venture investors are often accused of chasing innovators with elaborate technologies, in pursuit of the next unicorn—without proper due diligence on the sustainability and impact of their value proposition. In HealthTech, Wellness, and LongevityTech though, that may not be the case.
Po Bronson, Managing Director at IndieBio, explained that many family offices worldwide that are themselves LP are into lots of Funds or even have their own Fund generally interested in health because some of their ancestors or family members today suffer from a disease. It makes their interest in the specific area and consequently startups. However, Po claimed that longevity comes into the way and attracts people's interests as it gets out of that sort of single disease state type of investing.
The one of the biggest challenges from portfolio strategy is that when you're doing impact investing into health and getting into a specific disease you can get overwhelmed easily. You can't have balancing mechanisms in your portfolio to make sure that others don't offset one risk. Po works with many other groups trying to move his companies along with a lot of impact investors in healthcare. These are some of the challenges that he sees to which he attempts to replace that diligence and orchestrate that kind of confidence feeling about what they're doing.
Brian Mac Mahon, Founder, Expert DOJO continues, from a VC perspective they all try to do due diligence… They have Theranos disasters and sometimes they have really great outcomes. Brian described his comprehensive review of selecting Startups to his portfolio:
- if Expert DOJO has domain expertise within the people that are around them;
- if the startup is Startup is solving a huge problem;
- if the market is good enough at this stage.
So once all the criteria meet they can move further. Additionally, Brian mentioned that Expert DOJO has two genomics companies in their portfolio that both raised from $30 to $50 million.
US and European VC investment in healthtech, by subsector: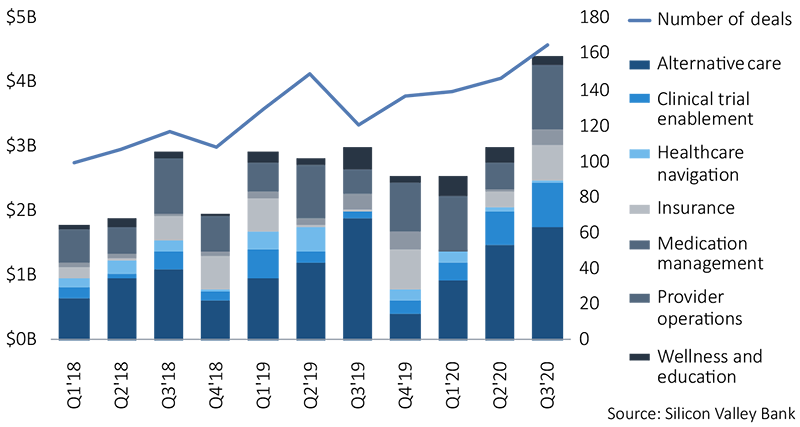 Credit: pitchbook.com
Julia Smila: What are the main trends you observe in this sector? Some examples of successful cases.
2018 and 2019 saw rapid increases in investment into well-being and care delivery innovators, as well as innovators leveraging AI, machine learning (ML), and the Internet of Things (IoT) to enable their products and solutions. Funding for health tech innovators exceeded US$7.4 billion in 2019. And Health tech investments will continue to rise in 2020, according to Silicon Valley Bank. Venture funding to innovative companies is often considered an important barometer of their value propositions and long-term success. Moreover, it can indicate future market performance and emerging trends.
Lu Zhang, Founder & Managing Partner, Fusion Fund, shares her thoughts about successful HealthTech startups. Lu underlines that new solutions should pay their attention to empower existing players rather than replace them.
One of the current trends by Ms. Zhang is structurizing the data. Healthcare has a huge amount of high-quality data that should be structured well to be used no matter by AI, cutting-edge technologies, small startups, or big insurance companies.
Lu spares a thought on mental health. In the past years, the mental diseases were explored scantily, now we have the technology available for us to do continuous monitoring. We can find a correlation between mental disease and also other symptoms of our body. That is a very interesting trend especially now with COVID-19, which fluctuates mental well-being causing depression and other mental problems. It's not only another interesting trend but also a big challenge as well as a big opportunity for us to watch.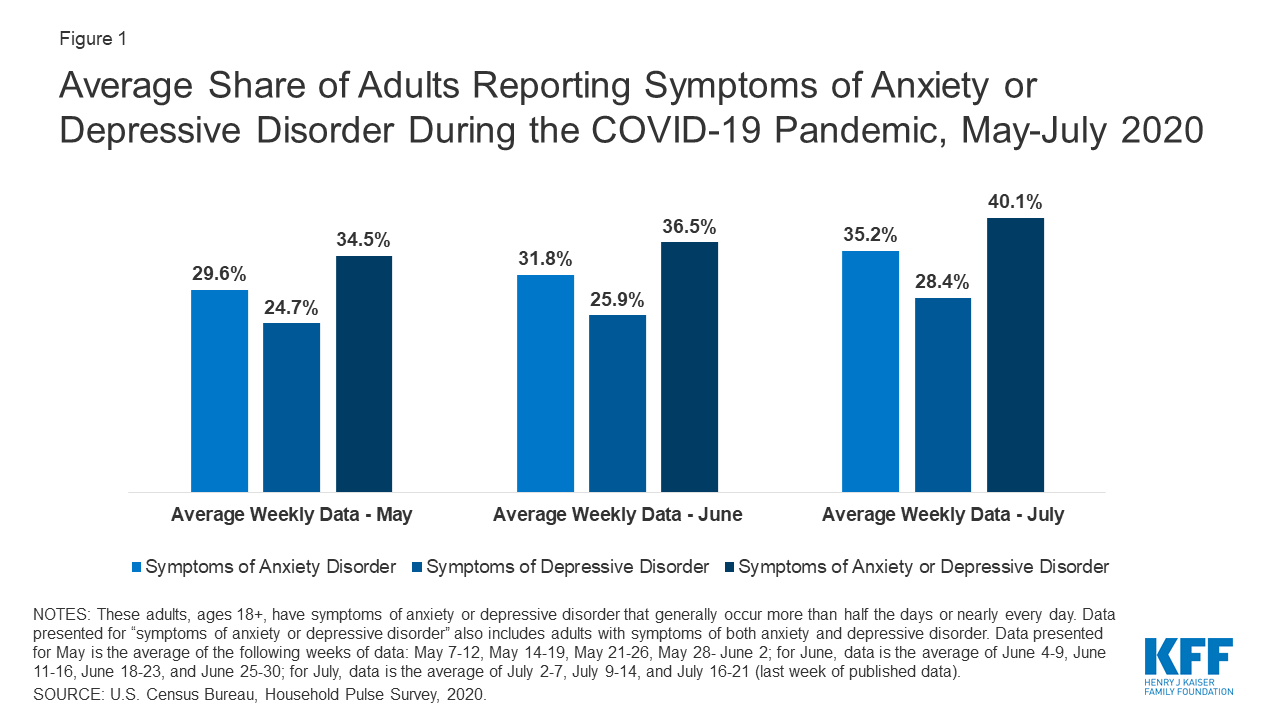 Credit: kff.org
Safa Rashtchy, Founder and Managing Partner, Think + Ventures also mentioned the data and it's structuring. Safa notes that we do need data and we can make use of that. Still, over the past 20 years that he has been observing data collection, various places invariably the potential use of data has been far below what was initially expected. Safa says that we need to keep our expectations realistic about how useful the data can be and also especially in healthcare - can we find patterns within data? As an example, Safa mentions one of the companies on blood testing that detects some patterns of COVID in blood samples; they had millions of data points in there. But to be able to make actionable and impactful decisions from that data will take years and years.
In conclusion, data is a long shot investment that should focus on investment; it is the area of long investment horizons, long research periods, and potentially will have a revolutionary impact.
On the other hand, practical applications are easy to use so-called low hanging fruit (e.g. remote patient monitoring, connecting patients with their own data, empowering them to take some actions on their data). Some of these things are easily durable and fairly impactful, the only hurdle for them is the acceptance by institution reimbursements and a few regulatory issues.
As Safa mentioned, Think + Ventures follows the dumbbell approach: they focus both on futuristic and research-driven approaches as well as on the companies where they can have an impact and potentially profit right now.
Julia Smila: What capabilities should health tech innovators consider to succeed in the future of health?
Brian Mac Mahon, Founder, Expert DOJO shares his thoughts that VCs have bias which has been built up over years but that this bias is not always a negative bias but actually a positive.
Brian says that Expert DOJO was established as "stupid" fund because Brian couldn't quite understand why there was a 98% failure in the startups and why it was okay. Brian isn't talking about what makes Unicorns because there's a perfectly contrived and manipulated system to create Unicorns. It was more about what causes the problem in startups in the first place, why so many startups actually fail. Then Expert DOJO invested in their first 40 or 50 or 60 or 70 companies and then they started to get hit with a bunch of folks in the healthcare space.
Brian states that some world spreading diseases such as tuberculosis and sickle cell shouldn't exist. It exists neither because we can't find a cure for it nor because we can't build algorithms to deal with the mutations. We can go in between the different solutions that we have, it's just because it's a poor disease that's been let go.
The fact that 250 000 children beneath the age of five die of sickle cell every single year in Africa simply because they are not diagnosed is just silly. Mass spectrometry is another phenomenal space, Expert DOJO has a portfolio company in mass spectrometry that are putting together a center of innovation from aspect because their belief is drug development shouldn't cost four billion dollars in 12 years to develop one drug.
Additionally, Brian shared a story of one robot pathology company in Belarus whose view is that it's just inappropriate that only 2% or 3% of the population get serious treatments like cancer done properly. It's like cancer is a disease for the wealthy and not for anybody else around. They've created artificial intelligence and machine learning that have now been deployed in a number of hospitals in Europe, allowing us to get second opinions with pathology tests.
Brian concluded that it is silly these diseases exist in the world when they don't need to. From a venture capitalist perspective, the best thing about it is the fact that the fund can make money and that it's okay to make money. It's actually good to make money. We should be able to bring these things out of the world.
So Brian's thesis:
- does he see a phenomenal entrepreneur;
- does that entrepreneur showcase the ability to execute based on what they have done previously;
- is there any indication that can be measured on math rather than having to be futuristic.
If it can do tremendous good in the world and it fits into Expert DOJO's scale then it is perfect.
Julia Smila: What do you think, what are the greatest challenges at the moment and where do you see structural gaps and missing links to move the sector forward? What kind of support and new instruments are needed to overcome these challenges?
Kate Batz, Managing Partner, Longevity Capital, states that it is extremely important to avoid general pessimism about longevity in her perspective.
This is why Longevity Capital focuses not only on biomedical sectors; they believe overestimation of positive results in preclinical levels in model organisms actually later fails the companies. Mentioning a couple of big flops this year, Kate underlined that Longevity Capital's concern is that by association a non-medical sectors of longevity industry can fall under the umbrella of negativity, so it's essential to them as mentioned diversified as well as full focus in terms of biomedicine. Additionally, Kate mentioned a great article in "Nature" earlier this year, which suggested that instead of humanizing model organism computational models derived from animal experiments.
Additionally, Po Bronson, Managing Director, IndieBio mentions that having experiments on mice as a model for human longevity are not good.The reason is mice live two years, humans live a really long time. Here bats are better than mice because bats are much more like humans - they live a long time. The problem is science takes a long time, the reason we use mice and C. elegans is because they are really quick.
But even the neuronal cells like the brain is a huge bigger factor in longevity than anyone really values. That is part of our perception but even if you are working on neuronal cells that are not old unfortunately they do not mimic our cortical neurons that can live 90 years. The ones we are testing in vitro are a week old, they already have senescence, they do this kind of feature and you can work with them but they are not good models. We need much better models to really try to unpack this massive gap between humans and the models that we use in this space. Po underlines that he would love to see far more emphasis on the brain as the instrument of longevity rather than cells or muscle cells.
Safa Rashtchy, Founder and Managing Partner, Think + Ventures, suggests that we have the least understanding of how the brain works among different systems within the body. Of course, we are least equipped to deal with diseases of the central nervous system. Safa mentioned that he would like to see more on how the brain modulates different parts of the body and how it impacts longevity and our mental health.
Brian Mac Mahon, Founder, Expert DOJO tells about one of India-based companies doing brain tests that are already being used in hospitals over in India. This test can not say your brain is 72% of what 100% would look like. It can tell you where you are versus where you were last week and the week before and the week before. Brian thinks part of the brain's lack of understanding is just because we do not do anything about it. "Everybody thinks oh my gosh I just hope I'm okay for as long as I'm okay and if I catch Alzheimer's or something goes wrong, well that's bad luck", Brian says, "I agree with 100% with a point on big data, but I love measurement and I love to be able to measure".
Julia Smila: What is your golden advice for startups working to promote Longevity and Health spans?
Po Bronson, Managing Director, IndieBio says that the simple thing is that IndieBio's whole network of investors would find a 50 million dollar exit a disappointment. That means for startups that they need to dream big, they need to dream really big and be really disruptive and have a vision of a very big company. That's what IndieBio's whole syndicate investors are interested in. Po concluded that their bias is definitely towards disruptive things that could be really big businesses.
Watch the full video of Virtual Meetup by Biohacking Congress on our Youtube channel.
Enjoy and Subscribe.
Join our community and attend our next events.
We are looking forward to meeting you!
Join our Community
Get the latest news about the Biohacking world, discounts, and more