The Perfect Nutritious Meal In Under 1 Minute
Our bodies have an incredible capacity to repair and thrive when given the appropriate nutrition organically. TUSOL smoothies, all-in-one meals and supplement replacement can be of great help for all people interested in biohacking for health.
Ilana Friedman, Co-Founder of TUSOL smoothies, shared her insights on the health revolution. There needs to be no compromise when it comes to your health, so TUSOL came up as products for optimal taste, convenience, and above all, efficacy.
The ingredients for TUSOL smoothies are sourced worldwide because many of those grow historically in specific areas, like Maqui Berry, which grows in Chile.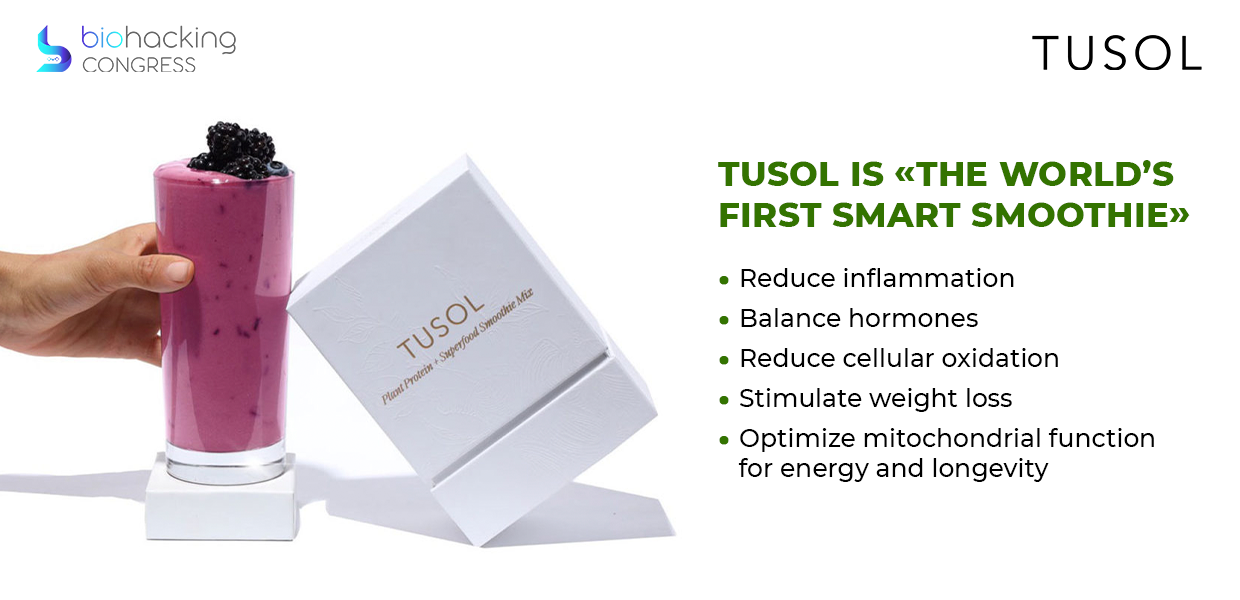 "We have five different blends - calm, balance, energize, rejuvenate and illuminate. Each smoothie contains a nutrient-dense blend of superfoods, adaptogens, probiotics, and enzymes that are meant to nourish, heal, and improve the mind and body's performance.
"Each blend serves a different function, but they all contain at least 20 grams of protein, 30 percent of your daily iron need, pre/probiotic enzymes, and collagen support."
What benefits does the person get from drinking the TUSOL smoothie? "We're pulling from a lot of research that has been proven over time, especially through traditional medicine. They are the cornerstones of where we're pulling that information from.
"Within the first month - it always depends on your baseline - people notice reduced sugar cravings and weight loss. I think those two come hand in hand because once you start putting the right ingredients into your body, you start nourishing the good bacteria within your stomach and craving the right things. It's resetting that balance and giving your body what it wants, rather than what we think it wants, or what we've been used to eating in the past.
"Most people will notice improved digestion, reduce bloating, weight loss and reduce sugar cravings, which, again, we never designed this to be that but it is an effect that happens once you start putting the right things into your body."
TUSOL smoothies are ready to drink in under 60 seconds. They can serve as a meal replacement. However, you are free to add to your blend almond milk, banana, or anything else. "You can absolutely use it as a meal replacement, most people do that. Our clients optimize for weight loss, we will do it twice a day. Or people who are extremely busy and don't want to cook the other couple meals a day we use it for exactly."
If you want to drink TUSOL smoothies twice a day, Ilana recommends adding fruit, MCT oil or something else that you make sure you're getting enough calories. The smoothies are low in calories, approximately 150 to 200 calories.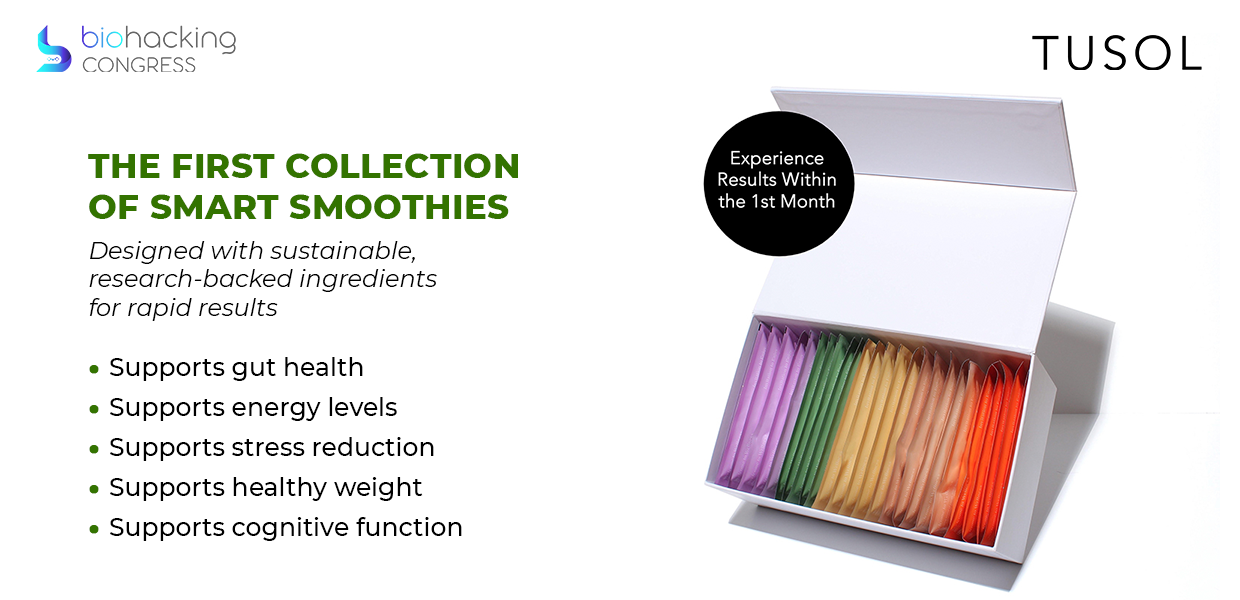 TUSOL smoothies can be not only meals but also supplements and replacements. TUSOL offers complete servings of 29+ functional superfoods and 11+ adaptogens, allowing you to see a difference in your body within just one month. The smoothies have been skillfully designed to operate together in synergy to boost each other's qualities, allowing you to notice a significant improvement in your health.
"Me, as a part of the biohacking community, take a lot of supplements every day, or get in the habit of taking a lot of supplements. It's just an easy way to get the extra nutrients, minerals, and herbs into your body. Some of the most popular ones being prebiotics, probiotics, enzymes, and, of course, curcumin or turmeric.
"It's hard on your liver to digest all of the casings of the supplements. It's hard to get the bioavailability through a supplement. We wanted to make sure it was all in the smoothies themselves.
"We do refer to it as that supplement replacement. Because if you're taking it through smoothie form, it's a great bioavailable way to get all of those nutrients. The smoothies are designed in a way that they give you the benefits of supplements without having to take pills every day."
Most smoothies don't have this extra layer of ingredients, but they're necessary to boost the bioavailability of the vitamins and minerals in each blend.
In addition, TUSOL smoothies are great for kids especially to support their immune systems.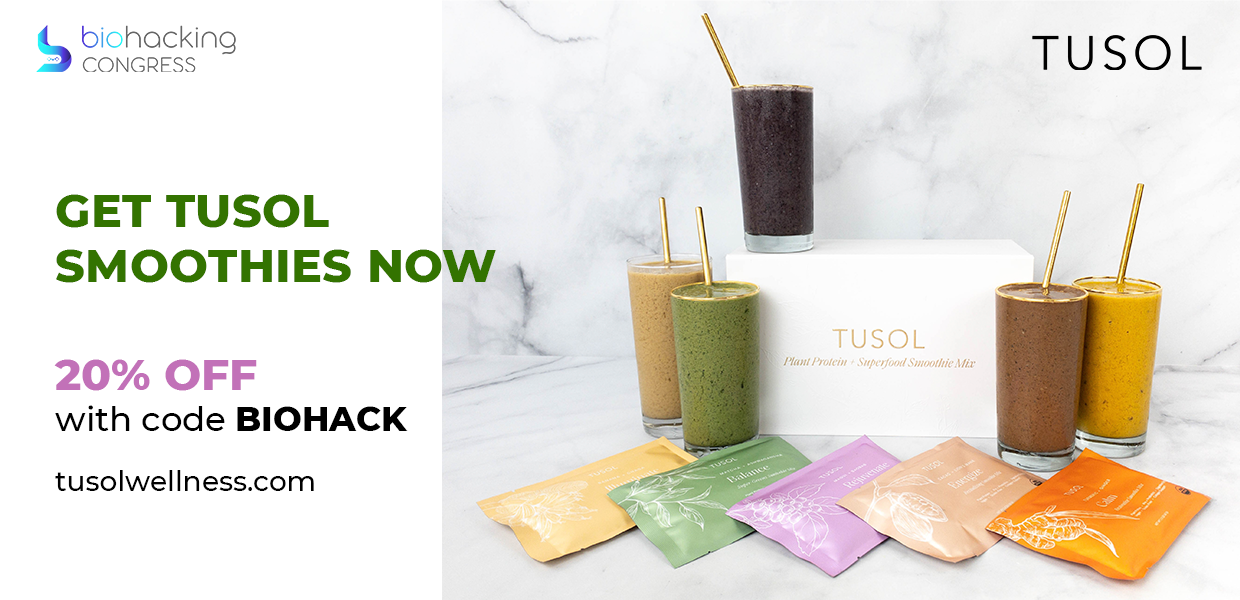 If you want to get your smart smoothie, we have great news for you. Get 20% OFF. Check that out at the Top Biohack section. Customize your subscription box with your favorite functional flavors from the biohacking company!
Watch 50+ lectures, panel discussions, and performances from renowned biohackers with a BiohackingCongress year-long subscription. Get your access to a healthy future now! Follow this link.
Stay tuned into the latest products for biohacking your body and biohacking your brain. Subscribe to the newsletter to receive the latest news and valuable discounts from the biohacking world.
Join our Community
Get the latest news about the Biohacking world, discounts, and more